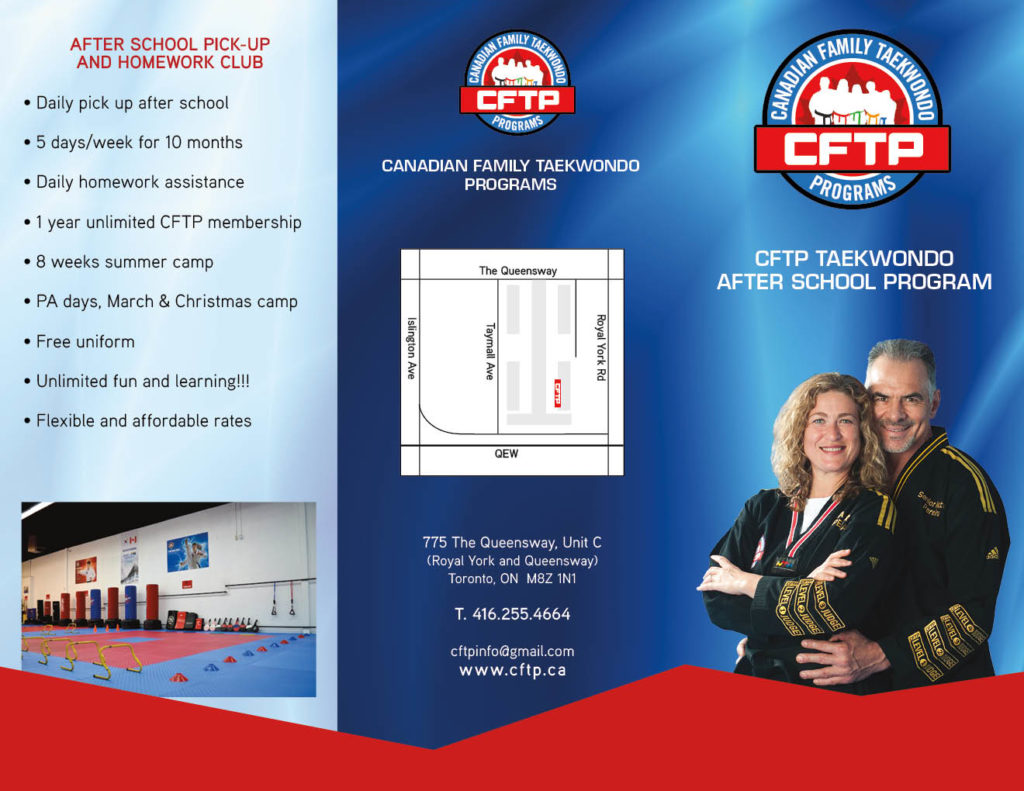 **This program will fill up fast,so contact us A.S.A.P. Registrations are due now! You can also register online
ENERGIZED & LEARNING CFTP AFTER SCHOOL PROGRAM
CFTP is a premium martial arts academy with locations in both Etobicoke and Mississauga. We have been teaching for over 35 years and are committed to bringing the best martial
arts training as well as family support to our clients and our communities.
Dear parents, grandparents, brothers, sisters, aunts, uncles, principles, teachers,and all others who deal with the challenge of children's time after school.
Canadian Family Taekwondo Programs (CFTP) has the solution for you!
Daily Pick up after school
5 days/week for 10 months
Daily homework assistance
1 year unlimited CFTP memebership
8 week summer camp
PA days, March & Christmas camp
Free uniform
Unlimited fun and learning!!!
Flexible and affordable rates
THE CHALLENGE:
Although most children are released from school at around 3:30pm, many parents and primary caregivers with busy work schedules are not available to pick them up until much later on.
THE SOLUTION:
CFTP ENERGIZED & LEARNING After school Program
Beginning in September of 2016 we are offering after school pick up program via free shuttle driven by our insured & qualified instructors. The shuttle will bring your child to
our first class martial arts facility. On arrival they will be given time to have their snack and do some homework before they enjoy Taekwondo class.
This program is right for you if:
You struggle picking up a child/ or family member from school on time every day?
You want your child or family member to be under the supervision of talented professionals who work with children on a daily basis in an encouraging & safe environment?
You want your child or family member to learn practical life skills, stay active, through Taekwondo have a great time doing it?
We value parents and caregivers as the primary source of encouragement in the development of our communities children. It is our honour and our responsibility to share with you.
**This program will fill up fast,so contact us A.S.A.P. Registrations are due now! You can also register online